Kangra

Altitude : 615m
Places Of Interest : Jawalamukhi, Kangra Fort, Brajeshwari Temple
Best Time To Visit : Mid-May To Mid-

November

HOW TO GET THERE Road: Kangra is well connected by road with Dharamsala, which is 18-km away.
Rail: Nearest broad-gauge railhead at Pathankot is 86-km away . Kangra Valley express is a narrow gauge train, starting from Pathankot and continues to Bajinath.
Air: Kangra airport is 7-km away and has got straight flights from Delhi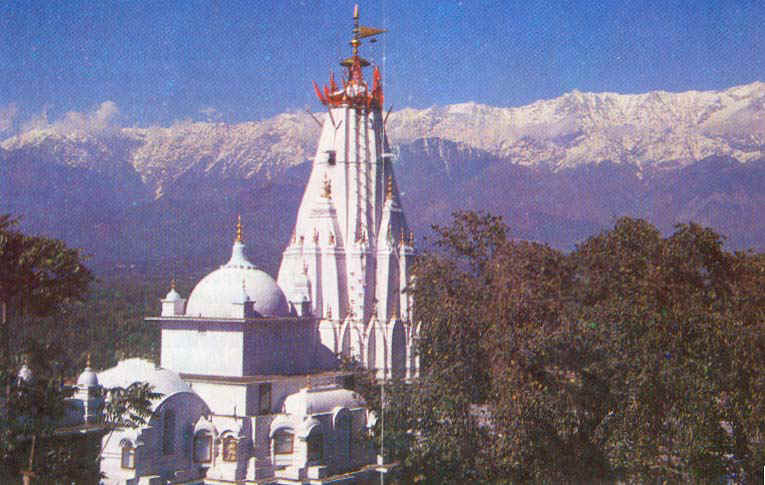 Kangra town is 18 km from Dharamsala. This was the first seat of Raja Sansar Chand II (1775-1823) .One of the ancient capital of powerful hill state-fort of Nagarkot(3km) stands as a mute witness to the ravages of conquerors from Mahmood of Ghazni to the Emperor Jehangir, and the disastrous earthquake of 1905. The place is now called "Purana Kangra".2 km from the bus stand is the temple dedicated to the goddess Barjeshwari Devi. Known for its legendary wealth it was invaded in 1009 AD by Mahmud of Ghazni who departed with King's ransom in gold, silver and jewels. Earthquake of 1905 destroyed it completely. Rebuilt in the present form in 1920, it continues to be a busy palace of pilgrimage. Old Jain temple and Gupt Ganga are the other attraction of the town. Jayanti Devi temple is 7 km and the Kangra mandir railway station 3 km from the main bus stand.
Shri Bajreshwari Devi Temple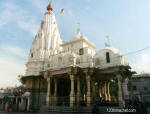 The Kangra town, known to the ancients as Nagarkot, is the seat of Shri Bajreshwari Devi. Mr. F. Cunningham's District Gazetteer of Kangra has the following account of the Bajreshwari temple in kangra "'The temple of Bajreshwari or Vagreshwari Devi at Kangra is - perhaps the most famous in this district. It is said to have been founded by the divinity of that name at a famous Ashwamedh or horsesacrifice, which was held on the spot. The famous Mehmood of Ghazni is said to have invaded the district and destroyed the temple, building a mosque on its ruins It was, however, restored and is said to have been visited by Akbar together with his celebrated Diwan Todar Mal. There are some temples in the vicinity which, are, said to have owed their origin to Todar Mal. Finally, Maharaja Ranjit Singh visited and under his orders the domes of the temples here and at Jawalamukhi were gilded. Subsequently devotees from Amritsar subscribed together and presented the temple with marble floor." Through the main temple was ravaged by foreign invader and flattened by the 1905 earthquake, it has since been restored to its pristine glory. At Kangra, one can also visit the historical Kangra Fort, the `Gupta Ganga Kshetra' and also trek up to Jyanti Devi temple situated on a hillock to the West of Kangra. There is a beautiful Jain temple near the Fort. Kangra is 20 km from Dharamshala